When stepping towards SEO (Search Engine Optimization) ranking in SERP (Search Engine Result Pages), its all-time-changing nature makes it the most complex element of your marketing approach. However, there are large numbers of trendy SEO strategies available by now that would be somehow advantageous for you.
But here we will talk about the seven essential SEO tips for 2022 that should help you rank in the upcoming new year. It's time to consider how things have changed and what you can do to make your SEO efforts remain successful.
#Tip 1: Know Featured Snippets
A featured snippet is an answer to the user's query in the form of a summary which will be displayed on the top of SERP. It's extracted via webpage and contains the page's title or URL (Uniform resource locator). Snippets are mainly categorized into three types by your query, i.e., Paragraph, List, and Table. Featured Snippets are also represented as position #0 on a SERP result which comes on top.
They are designed to answer the searcher's query indirect, supportive response. A famous survey says that the content that is chosen to become visible as a featured snippet can get double the CTR (Click-through rates) of organic search results.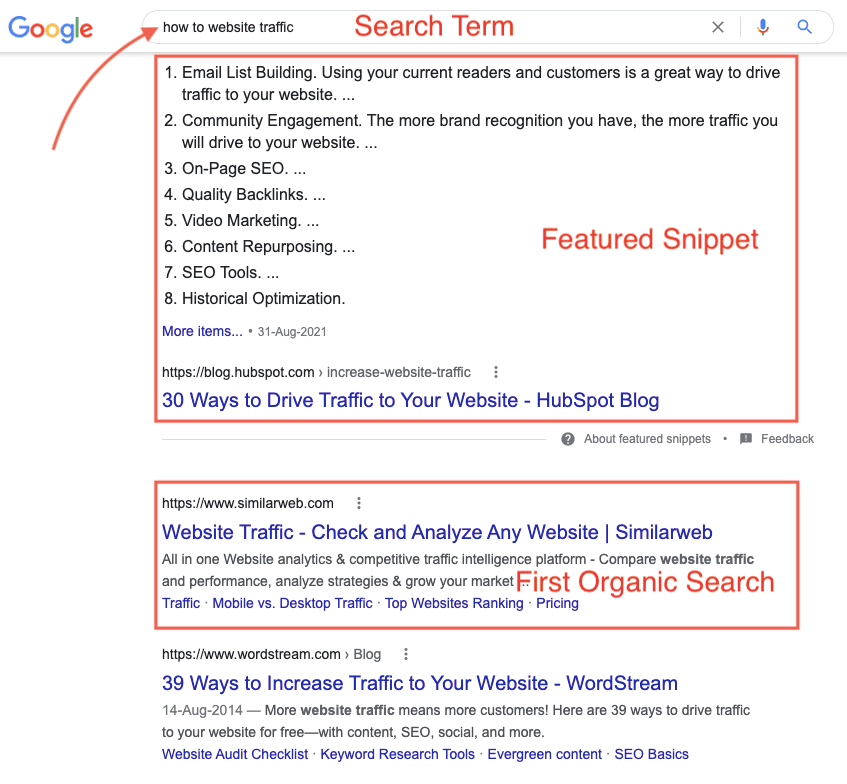 Snippets primarily tend to reply to queries starting with what, why, does, should, which, and how. Hence, it's best to take this approach while writing your content, as snippets are very connected to voice search. In any SERP, a featured snippet can get huge web traffic. Here the question is – How can you get the top position on featured snippets? For this purpose, you have to do three things, i.e.,
Always write a search query as a question.
Format your vital content items as subheading tags, for example- H2, H3, and so on
Write the utmost 50-60 word answer for each query you target
If you pursue featured snippet SEO tips for 2022 with your content, the possibility of getting a position 0 in SERP gets even higher. However, it is only possible after your content attains the first page on a SERP.
#Tip 2: Focus on Voice Search SEO
Today voice search has been more of an innovation than a practical tool, as with the increase of google home and other devices like Amazon's Echo; google is looking for optimized voice sites. Mobile users are persuaded towards voice search more now.
There are no direct SEO tips for 2022 for voice search, although you can concern one of the Backlinko studies to plan your website and content for the future-
By using a common language in writing that people can easily understand
By Including questions and answers in your content
keep your answers to the point and small
Design your web page with the featured snippet position in mind.
#Tip 3: Enhance Shareability
Shareability is a high indicator that searchers observe your content well enough to share it with their peers. Now let's elaborate in short – How can you improve shareability? Here the first thing is to know your buyer personas. Knowing their needs, challenges, or values, you can create unique, important, and relevant content that somehow gives solutions to their problems.
Not only this, but it also assists in prioritizing readability, i.e., making your content scannable as well as easy to grasp via blogging great practices, bullet points, and subheads. In the end, content should be of high quality and placed to give answers to the queries readers have.
#Tip 4: Analyze Analytics
It is one of the perfect and effective SEO tips to rank in 2022, and here are the analytics you require to check on a regular basis.
Referral traffic
Conversion rate
Page traffic
Rankings
Session period on pages
Bounce rate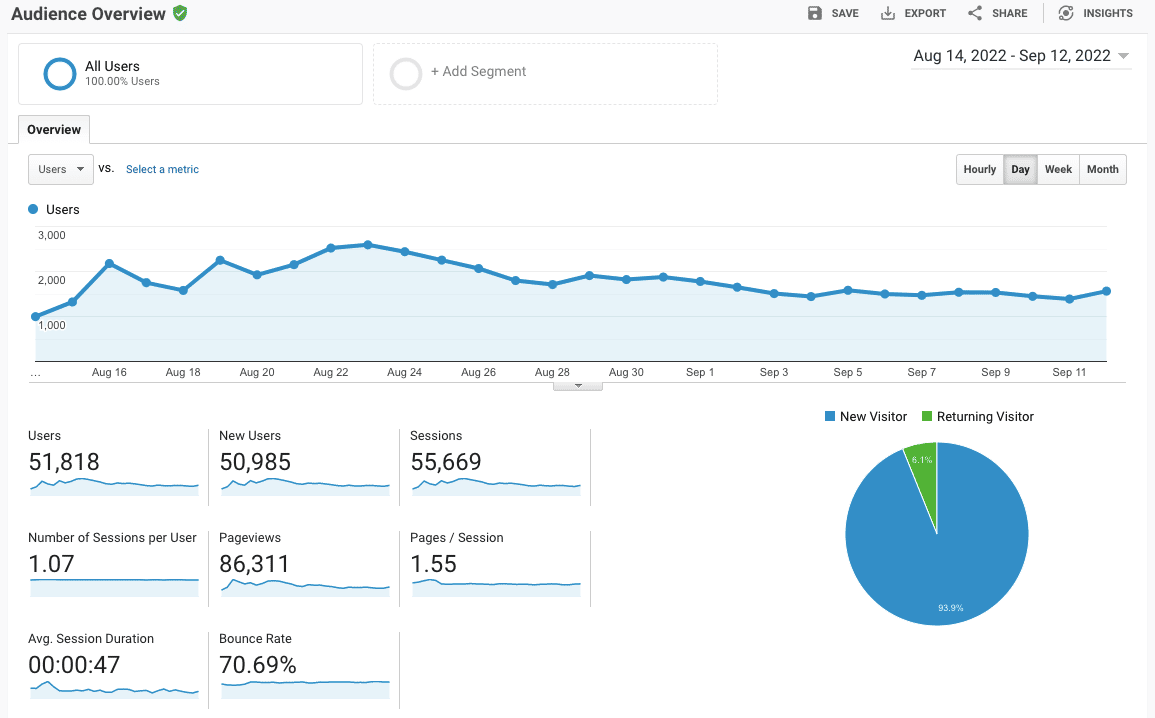 These insights inform you of how your website is doing and which features require more attention. For example, if the referral traffic is decreasing, then you will necessitate more relevant backlinks to find the precise spectators. Likewise, a high bounce rate denotes that your web pages need appealing content, internal links, and additional means to hold visitors.
#Tip 5: Post-click Activity
Post-click activity decides search result quality plus whether the visitors' intention was met. Here note one thing either the visitor spends less or more time on your page; what matters more is the step they take next.
For instance, if the viewers leave your web page to return to the SERP where they hit on another listing, Google understands this as a displeased user and considers your content irrelevant.
The particular actions of searchers reading your content can also tell the track of your strategy. As of now, you will be able to know which keywords/phrases are behind the internal links gathering a large number of clicks. It will help you examine associated topics and questions, exposing more content openings for you.
#Tip 6: Do Testing With Video Content
It is predicted that about 80% of internet traffic is to be spent on video. As videos are extremely shareable as well as deliver content in an interactive format, that's how users can get a chance to access information visually.
Video has the potential to keep the audience engaged on your site for longer, which is huge for post-click activity as it showcases that they are less likely to bounce off. Having video included in your landing page enhances conversion rates and increases your bounce rate and whole time on site.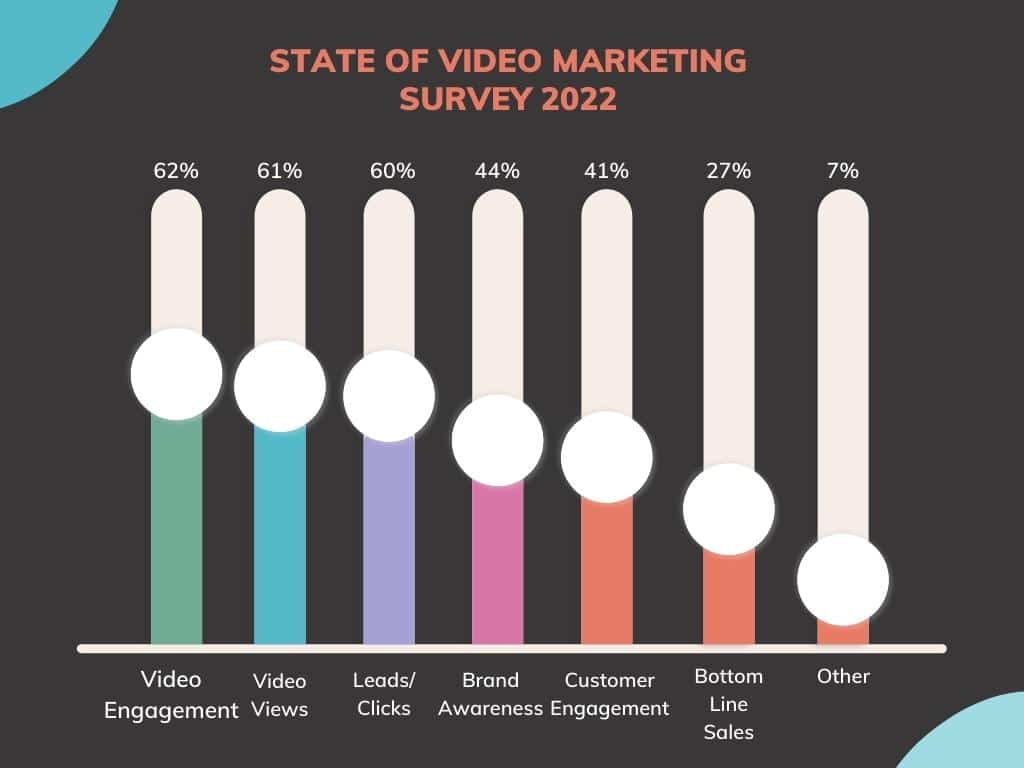 However, there are rules to follow with video, i.e., create a good quality video that is entertaining and can keep people engaged and encourage them to share. Most search engines rank websites that have a low bounce rate and high user retention rate as it is a pointer of your site containing strong content or is pertinent to your target viewers.
Therefore video is necessary to get better SEO tips for 2022. It holds users on your page as well as lessens your bounce rate.
#Tip 7: Apply SEO on All Platforms
Using SEO tips for 2022 on overall online platforms is the right way to reach a vast audience. For example, you can explore different pathways, i.e., Q&A forums, Youtube SEO, guest posting sites, Social media, etc. Allowing valuable content with SEO can truly assist your website as a brand.
You can do this in the following manner-
Use a clear keyword pattern while promoting content on diverse podiums
Know the area itself to alter your SEO methods for superior results
Locate and chase a voice that can develop into your brand's identity on every platform
You can add handy links to fetch web traffic to your official site
Final Words
A Statista report shows there were five billion internet users worldwide, which is 63 percent of the global population. In a world where most people are online, having a strong online presence can help your business grow. With a proper SEO strategy, your website can rank better in the search results, ultimately bringing more business.
Boost Your Online Presence With Digital Marketing
Boost your brand website's online presence and increase ROI with the power of digital marketing.